Sunset Skates
Sunset Skates is the only Indoor Skatepark, Skate School, and Skate Shop on the North Shore of Oahu, Hawaii. We are located at the Kahuku Sugar Mill at 56-565 Kamehameha Hwy Kahuku, HI 96731
Our skate lessons will benefit the complete beginner by giving them the skills and confidence they need to safely learn how to skateboard. We also help build the skills of more advanced students by encouraging creativity and independent style.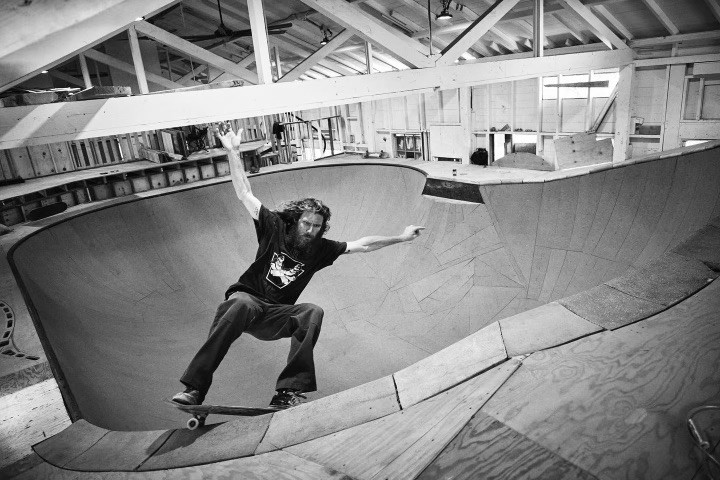 Willy Akers
Willy Akers is the lead instructor at Sunset Skates. Willy has 25 years of skateboarding experience. Once a professional skateboarder, skateboarding has taken him around the world eventually landing him in Sunset Beach on the north shore of Oahu. Willy has a bachelor of fine arts with a focus on education. His art background gives him a unique and creative approach to skateboarding and teaching. He is also a natural athlete able to teach both the art and athleticism of skateboarding.
Willy really notices and focuses on his students individual strengths building his students confidence and individual style. Willy has experience teaching at skateboarding camps such as Woodward and after school programs in New York City. He is passionate about sharing his love of skateboarding!
"Willy is an awesome skateboarding coach. He started teaching our twins at age 4. His energy seems to be endless and is always right next to kiddos keeping them safe while still learning and having tons of fun. You can tell he enjoys sharing his knowledge and the kids love being around him. He's outgoing, safe, kind and a great person all around."
Polly Fischer-Pool
"Willy helped our 5 year-old learn the basics of skating. His enthusiasm, kindness, and patience helped her love the sport. She always asks when she can have another lesson and is so excited to show us all the tricks that he has taught her. We look forward to taking more lessons!"
Jennifer Fiedler, mom of Evie, age 5
"We have been working with Willy for over a year and a half. When we first met Willy I needed to hold my daughters hand while she was skateboarding, within a few weeks Willy taught her to drop in on her own, and learn the basics which she has been able to build on herself. Throughout the year Willy has continued to help Zoee progress so much faster than she would have without his guidance. His love for skateboarding and his enthusiasm to help others is so incredible , we are lucky to have found him. Zoee looks forward to every session with Uncle Willy."
Amanda Bradshaw, mom of Zoee age 6